We are back from our summer break! Come on 2022, be a good one...
W27 dominant white (W27)
Summary
W27 is a version of the KIT gene that produces a partial to completely white coat pattern. W27 horses that aren't completely white often have stunning spotted patterns. W27 is thought to have originated in an Australian Thoroughbred mare called Milady Fair, born in 1960.
Milady Fair had one white filly, Glacial. Glacial produced a white colt, Khaleben, who went on to become a stallion and sire three more white offspring. The most prolific of those was Colourful Gambler. In addition to the Thoroughbred foals he sired, he introduced W27 to show jumpers and the Paint breed.
No horses have been identified yet carrying two copies of W27.
Gene or region and technical reference
Gene: KIT (causative). Reference: Hoban et al. (2018)
Reported alleles
n. Test developed using manufactured DNA, animal controls.
W27. Test developed using manufactured DNA, animal cases.
Panels: groups of tests that are often ordered together
This test is not in any panels.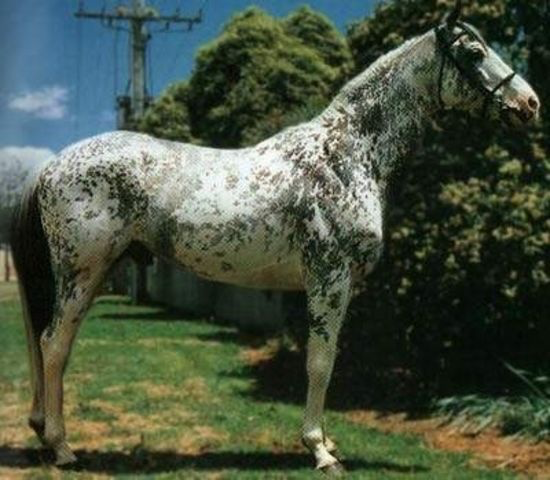 Colourful Gambler, born in 1986, introduced the W27 dominant white gene to show jumpers and Paint horses.