We are limiting the number of orders we take, but there's still room for yours!
Dilutions panel
Summary
Panels are groups of tests that are often chosen together. This panel includes our full range of coat colour dilution tests.
These are cream and pearl (both alleles of the SLC45A2 gene), silver (an allele of the PMEL gene), dun and d1 (both alleles of the TBX3 gene) and champagne (an allele of the SLC36A1 gene).
We are currently working on setting up a test for the mushroom dilution, which can be found in Shetland ponies. Mushroom will be included in the dilution panel when it is ready.
Tests in this panel
champagne | cream | dun/d1 | pearl | MCOA/silver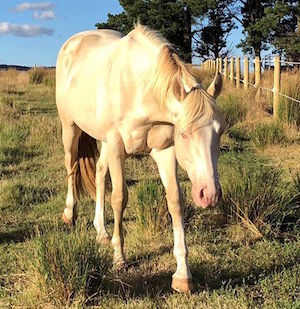 MP A Moment In Time is a buckskin pearl frame overo Paint.Photo: Carlin Connelly, Conjor Performance Horses