Our last day of testing for the year will be 22 December. The lab will start up again on 2 January 2024.
You can still place new orders and send us samples while we are on break, ready for when we reopen.
Miniature health & colour
Summary
This panel includes all of the colour and disorder genes that we have seen in Australian Miniature horses and ponies.
The coat colour genes in this panel are agouti, red/black, cream, silver, champagne, dun and d1, grey, frame overo, Lp, PATN1, roan, sabino 1, SW1, tobiano, W13 and W20.
The disorder genes in this panel are D1, D2, D3, and D4 and skeletal atavisim (SA). The health effects of grey, Lp, SW1 and frame overo are also addressed.
Tests in this panel
D1 | D2 | D3* | D4 | SA | agouti | red/black | OLWS | grey/melanoma | Lp | PATN1 | roan marker | sabino 1 | SW1 | tobiano | W13 | W20 | champagne | cream | dun/nd1 | silver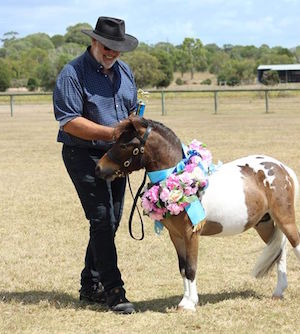 Willowmoss Ripped Jeans is a bay pintaloosa owned by Chris & Adele Trubuil.
Photo: Jesse Riley, for Willowmoss Pony Stud.