Our last day of testing for the year will be 22 December. The lab will start up again on 2 January 2024.
You can still place new orders and send us samples while we are on break, ready for when we reopen.
QH health & colour
Summary
This panel consists of the colour genes seen in Quarter Horses here in Australia, plus the QH health panel.
The coat colour genes in this panel are agouti, red/black, cream, silver, champagne, dun and d1, pearl, grey and W20. We have left out the roan marker test because it does not suit all QH lines.
Disorder genes in this panel are OLWS, PSSM1, HERDA, GBED, MH, HYPP and IMM.
Tests in this panel
PSSM1 | GBED | HERDA | HYPP | IMM/MYHM | MH | agouti | red/black | OLWS | grey/melanoma | W20 | champagne | cream | dun/nd1 | pearl | silver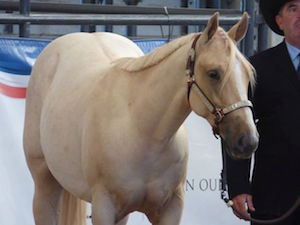 Skyeblu Hollywoodxion is a dunalino (ie. palomino plus dun) roan.
Photo: Skye Burke, Skyeblu Paint and QH Stud